Treasure Raw Materials
Per a NEA study in 2018, Singapore generates about 60,000 tonnes of E-Waste annually. That is equivalent to each person in Singapore discarding around 73 mobile phones. Out of this amount, only 6% are recycled.
As E-Waste often contain valuable and scarce resources such as silver and gold, the lack of recycling results in a loss of resources and energy that could have been put to better use.
Given that resources are finite, it is crucial that we treasure and extract every value from the waste generated. Thus, be it as a producer, consumer, retailer or business, it is important to understand what kind of E-Waste can and should be recycled in Singapore as part of the Resource Sustainability Act.
Regulated Consumer E-Waste
Consumer products generally refer to products largely marketed to, and bought or used for private consumption (e.g. mobile phones and household appliances), and includes dual-use products that are supplied to both consumers and businesses.
Information and Communication Equipment (ICT)
This includes printers (<20kg), computers & laptops, mobile phones & tablets, network & set-top boxes, TVs & desktop monitors. ICT peripherals such as mouse, keyboard, cables and adaptor can be disposed of together.
ALBA E-Waste ensures that ICT devices collected will be sent to qualified recyclers with specific data sanitisation mechanisms put in place when processing the E-Waste.
Large Household Appliance
This includes Consumer Refrigerators (≤ 900L), Air-conditioners, Washing Machines, Dryers, Televisions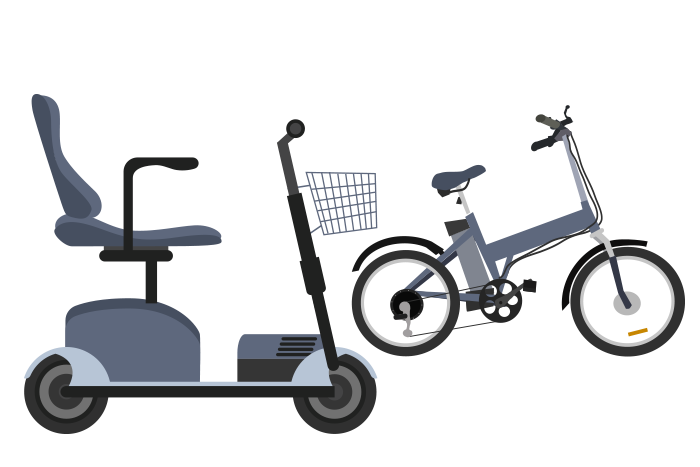 Electric Mobility Device
Personal Mobility Device, Power Assisted Bicycle, Electric Mobility Scooter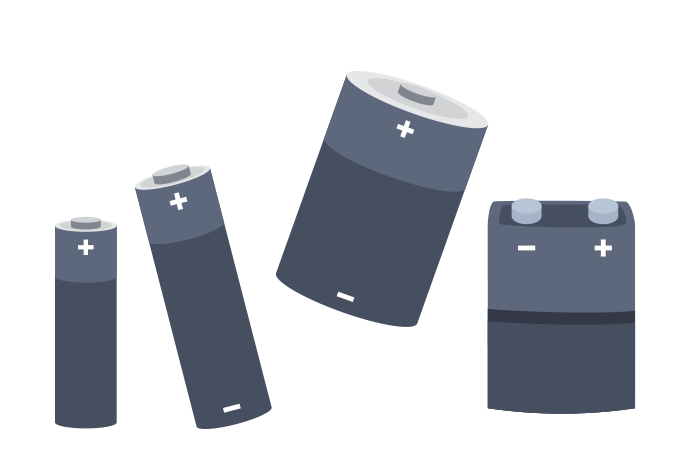 Household Battery
D, C, AA, AAA, AAAA, N, 9-volt, Button cell
Lithium Ion Portable Battery
Powerbank, Mobile Telephone Battery & Laptop Battery
Consumer Electric Vehicle Battery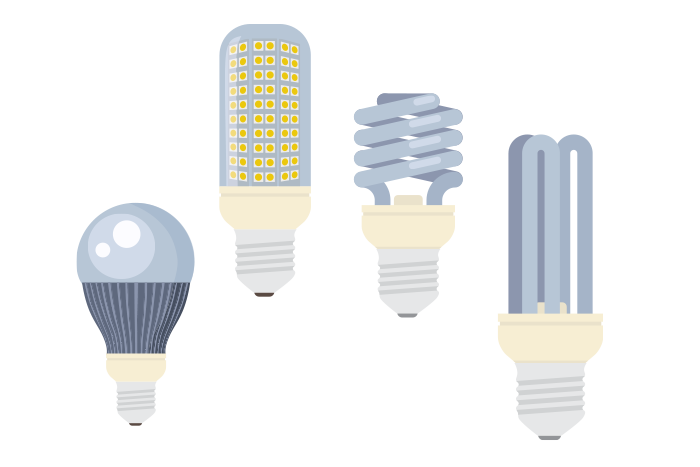 Consumer Lamp (Bulb)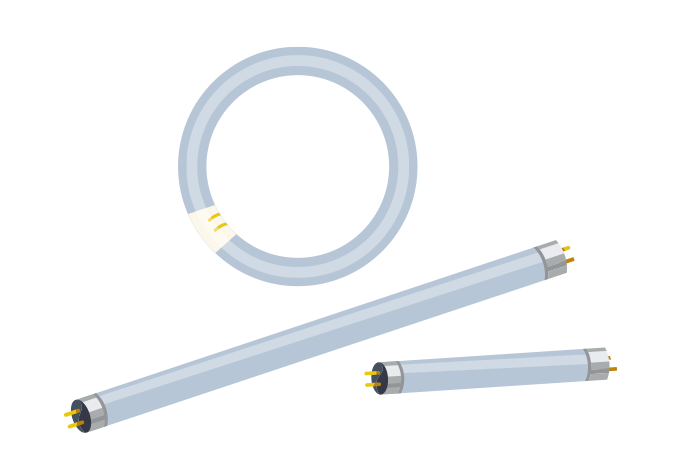 Consumer Lamp (Fluorescent Tube)
Non-regulated E-Waste
If your E-Waste cannot be found above, it is it is currently non-regulated under the Extended Producer Responsibility Scheme for E-waste Management. In such cases, we would recommend for you to bring your E-Waste down to the nearest Cash for Trash (CFT) station. If you live in the Jurong sector, you can refer here for a map of ALBA's existing CFT stations. Alternatively, you may search online for the nearest CFT station to you or check with your local public waste collector.

Meanwhile, refer below for a working list of common unregulated E-Waste:

Electrical Fan, Food processor/blender, Microwave, Rice Cooker, Toaster Oven, Vacuum Cleaner, Digital Watch, Thermometer, Electric Toys, Coffee Machine, Hairdryer, Soundbars, Walkie Talkies, Camera, Speakers, Game Consoles (e.g. XBox, Playstation), Diffuser, Electric Toothbrush

Not all unregulated E-Waste are collected at CFTs, for e.g. CDs, DVDs, cassettes, electric tooth brush and charger, etc. are not collected at CFTs. Please check with your respective Public Waste Collector to see what is accepted at their CFT stations.


Types of E-Bins
ALBA E-Waste has stationed more than 550 E-Bins across Singapore. They can be found in public areas such as town centres, shopping malls, government buildings, Residents' Committee Centres, community centres, supermarkets and retail outlets.
ICT, Battery, Bulb Bin
(3 in 1 Bin)

Accepted E-Waste:
• Batteries (AA, AAA, AAAA, D, C, 9-volt, Button Cell only) – circumference ≤ 50mm
• Light Bulbs – circumference ≤ 100mm
• ICT equipment: Printers, power banks, computers & laptops, mobile phones & tablets, network & set-top boxes, TVs & desktop monitors – devices must be able to fit through a 500mm x 250mm slot
• ICT Peripherals such as Mouse, Keyboards, Cables and Adaptors can be disposed together with the main regulated ICT product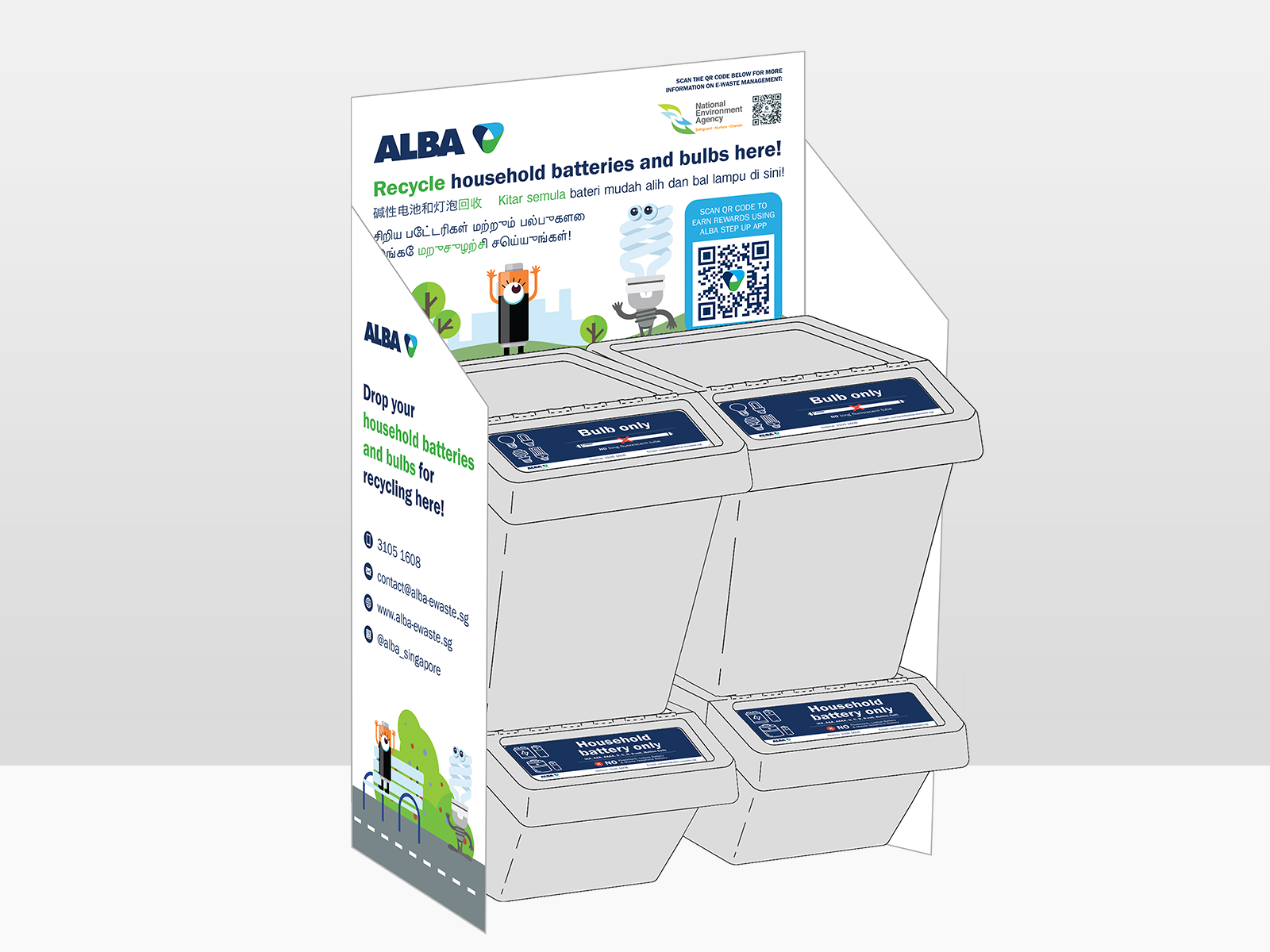 Batteries & Bulbs Bin

Accepted E-Waste:
• Bulbs
• Batteries (AA, AAA, AAAA, D, C, 9-volt, and Button Cell only)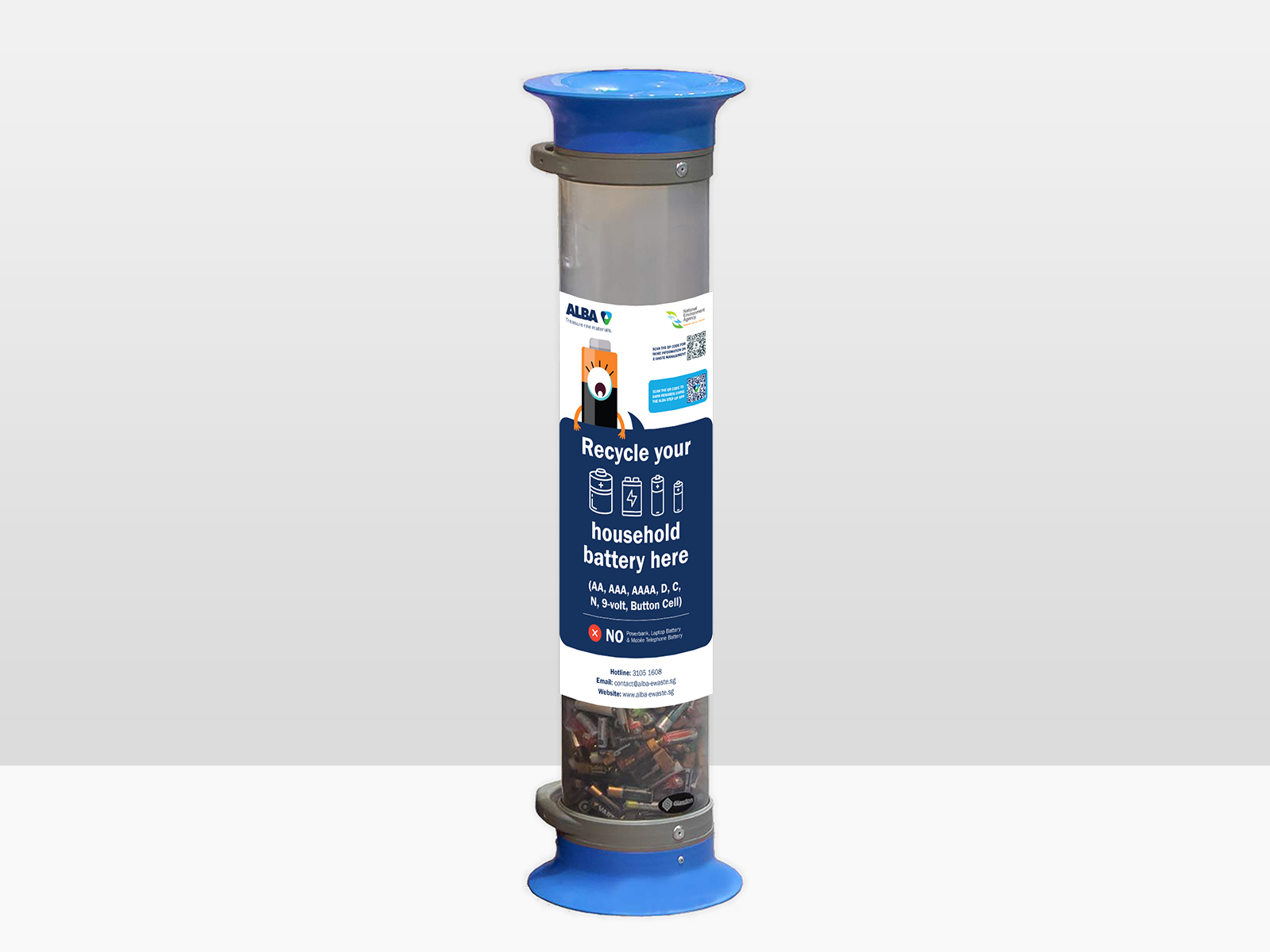 Batteries Bin

Accepted E-Waste:
• Batteries (AA, AAA, AAAA, D, C, 9-volt, and Button Cell only
Disposal Guidelines
Before you dispose your E-Waste, there are some things you should take note of:

Step 1: Check here to make sure you are disposing only Regulated E-Waste.

For unregulated E-Waste, alternative options such as Cash for Trash stations are available.

Do not dispose any other types of waste (e.g. general waste, food, plastics) at our bins.

Step 2: Remove all packaging (e.g. boxes, plastic wraps, bags). Dispose only the E-Waste unless it is damaged.

Step 3: (for damaged E-Waste only): Broken appliances or leaking batteries may be disposed of by Securing it properly in a container. Please take care note to dispose of any broken lamps inside the E-Bin. Please dispose them of as general waste, i.e. green refuse bins.

Step 4: Drop off your E-Waste at designated points. Do note that different E-Waste has different collection avenues, to find out what is available for your E-Waste, click here.



For ICT Equipment:

• Wipe all data on your devices whenever possible

For Light Bulbs:

• Do note that long fluorescent tubes are only collected at Collection Drives or our Depot (20 Tuas Loop), kindly do not discard them into the E-Bins

For Large Household Appliances:

• Disconnect any cables / connections and ensure appliances, fittings or equipment have been switched off

• Empty, properly defrost and clean refrigerators and deep freezers